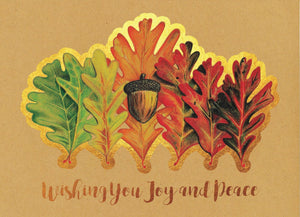 Holiday Grove Dedication Card
Spread Holiday Cheer with a Gift That Grows
Celebrate and commemorate this holiday season by planting a grove of trees! These beautiful, seasonal cards are the perfect way to send a festive greeting to friends and family, with an impact that lasts!
Our mailed Holiday Grove Dedication cards go beyond traditional gifts - they symbolize growth, renewal, and the enduring bond you share with your loved ones. Every Grove Dedication helps foster a greener environment and contributes to local tree restoration efforts. Your holiday spirit may be around all year long, but these cards won't be! Order yours today to have it arrive before the holiday rush. 
Your holiday dedication comes with a personalized 4.5x6.25" card that will be mailed to the recipient of your choice. All paper cards are made from 100% recycled paper and printed with care in partnership with a local print shop.